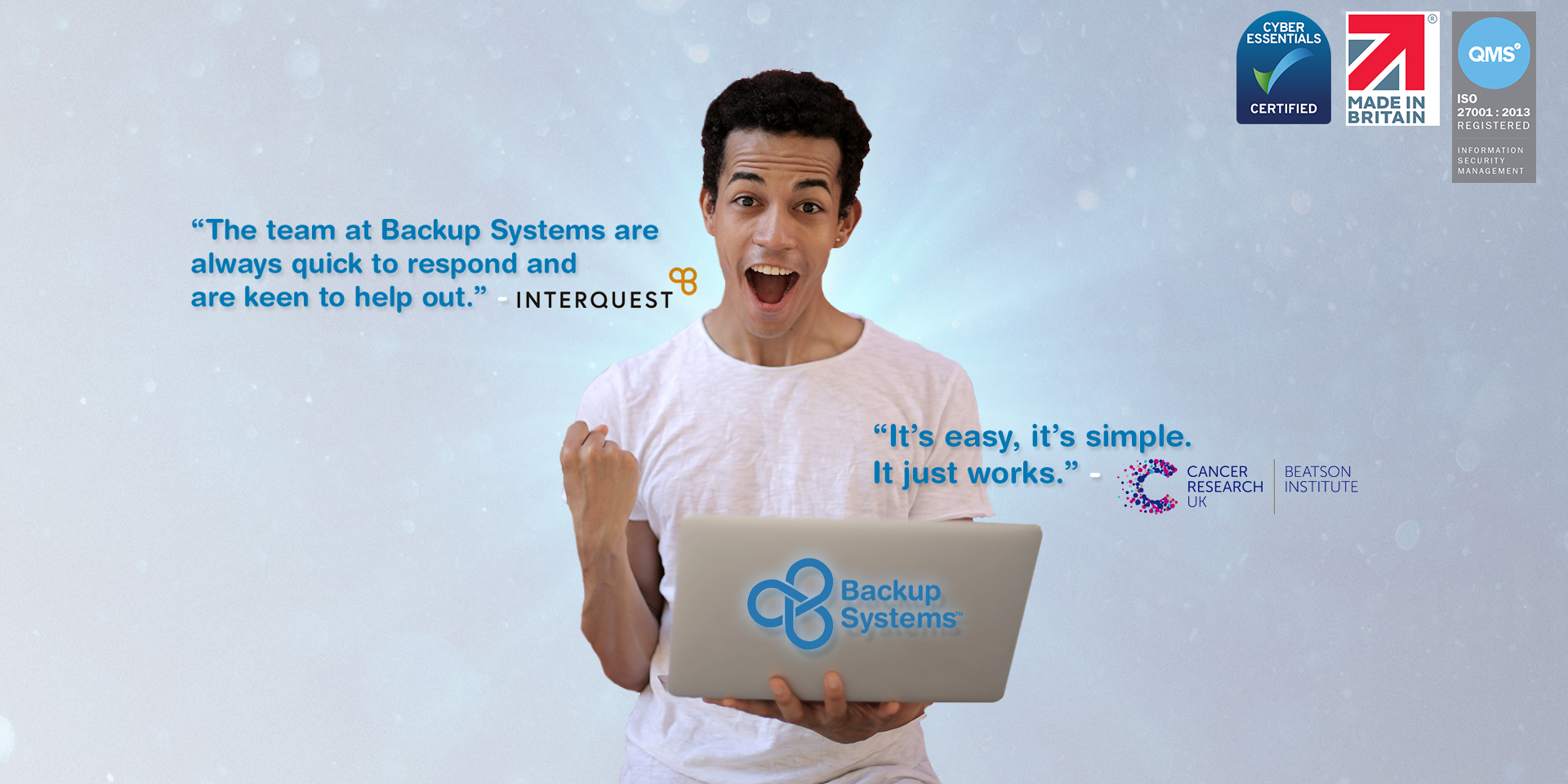 Working with Backup Systems.
With 10 years of experience with helping customers, Backup Systems strives to be the best in helping its customers with protecting their systems. We do what we can to ensure our customers are well looked after, with regular support on hand, you can be rest assured that you are in safe hands when choosing Backup Systems.
But why choose Backup Systems?  
With multiple companies across the UK using our service, such as InterQuest and Cancer Research, we have the experience and customer base to prove we know what we are doing.  
InterQuest, was using tape backups for many years and was looking for a more simplified backup system, with redundancy that could deal with file servers, application servers and virtual machines. The solution to this was a managed service with replication to another site over their WAN connection.
InterQuest provided the hardware with VMware installed, ready for us to install our software on. Since doing so they now have a much more simplified process with many benefits including email archiving and quick file level, VM and database restores, eliminating any issues that would've been caused by using tape backups.
When asking InterQuest about Backup Systems they said "When I tell people about the solution they always say "it can't be that simple" but it is. The team at Backup Systems are always quick to respond and are keen to help out."  
As technology grows and changes, we work with our customers like InterQuest, to ensure that everything is kept secure and that we continue to deliver an outstanding product. As times change and new backup solutions emerge, we offer the best solutions we can to our customers and grow with them.  
Another of our customer, The Beatson Institute, which is one of Cancer Research UK's core funded institutes, felt as though they were wasting valuable hours on their backup. With their previous solution requiring 2 days' worth of man hours each week to maintain, they were considering hiring an additional team member to free up critical resource which could be better spent on other IT projects.  
The Beatson had an IT environment that consisted of multiple systems and backup requirements, but it was struggling to keep up. They needed a new backup solution that was able to easily perform backups on a variety of different operating systems and server platforms such as Linux, Windows, VMware, Hyper V, and even end user laptops.  
The Beatson after reviewing a number of bigger players in the market chose us as their backup solution, IT Manager Peter said that one of the key features which appealed to him was being able to handover the resource intensive aspects of managing backups. This meant Peter was now able to spend less than five minutes each day reviewing the system reports.  
Visit our managed services to find out more or get in contact to book a demo!
---
Photo by Daniel Lawrence and Andrea Piacquadi